by Dr. Kim Redman
as published in SNAPD Aurora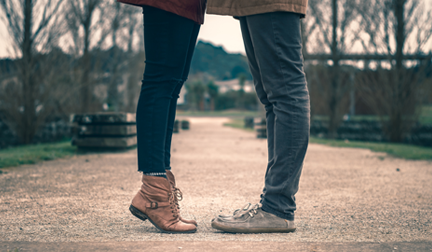 You know it is said that every relationship should be a 50-50 split. Right?
Here are 6-Tips to ensuring you get there and just maybe weighing the odds a touch in your favour.
Allow me the pleasure of starting this article with a true story of my father.
My parents had a fiercely passionate and romantic love affair until death parted them in 2002. When my sister and I were encountering our love life disasters Dad was always there for us and often would be the one to wait up for us and counsel us into the wee hours of the morning.
My dad was and still is a very pragmatic man. He always used to tell my sister and I that the real ratio in a partnership is really 100-100, but it was that 50% of the time. He further explained that in a partnership when one partner sinks, the other carries the weight. He always added that in a healthy relationship that should end up about 50-50 as you were looking back and reviewing your life together from the rocking chairs on your front porch.
How to weight the odds in your favour:
Decide to make yourself the most empowered partner you can be. Empowered individuals make for empowered relationships.
Know that a good partner will challenge you to become the best person you can be and will support you as you face your own fears and grow.
Healthy relationships often get stronger after a crisis. The goal is an increased understanding of yourself and your partner so continue to learn about yourself and each other.
Remember that the laughter and fun should far outweigh the tears. The day to day is easy in a balanced relationship.
In the East they have a ratio for empowered living: 85% healthy, 85% of the time. That applies to relationships too.
Make sure you through in common core values and a lot of passion too!
I look forward to hearing how your explorations go!
To Your Health, Wealth and Happiness!
---
WHAT IS YOUR NEXT STEP?
Thank you for taking your time to read this article. We hope you found it informative and that it prompts you into action to begin your TRANSFORMATION to your GREATNESS. As a gift for visiting please choose one or more of our Complimentary or Special Offers.
---
Get a complimentary copy of Dr.Kim's book!
The Mission Manifesto; Passion, Purpose & Profit (Value $47)
Register HERE for your complimentary copy. Go!
---
Looking to attend a Live Event in North America?
2-Day Designing Your Destiny® Seminar at our lowest price of $97+HST (Save $253+HST)
Register HERE for Designing Your Destiny Seminar. Click Here
---

Can't attend a Live Event? Find out how to get to the next level NOW!
Book a complimentary Quantum Discovery Session with Dr. Kim (Value $387)
Register HERE for your Quantum Discovery Session. Go!
---
Questions? We'd love to hear from you so please contact us!
To reach us by phone, call: 905-727-4676 or email: info@creatrixgoquantum.com