by Dr. Kim Redman
as published in SNAPD Aurora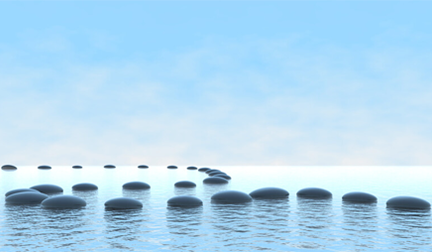 One of the most commonly experienced challenges is understanding how to define the path from today to your vision. It just always seems to get convoluted along the way doesn't it?
The reason it is so challenging is because you have not yet installed the necessary neurology for those skills yet. In layperson's terms, you can't get there from here. The solution involves reverse engineering.
How to use reverse engineering to get to your vision:
Understand that your vision is just that, a vision. "I want to work with dolphins in the Florida Keys", is a vision. That vision will have stepping stones of action. Those stepping stones are goals. They are systematic and progressive.
When you make your plan start from the end point and work backwards. In the above example ask, "In order to work at that facility what credentials do I need?"
Each stepping stone will have tasks and target dates that turn them into goals. Continuing with our example; Phone the facility and ask what credentials they look for, and then phone the appropriate university and have information sent to you. Pick a date by when that is to be done and stick to it!
Now do the same thing for the university; What are they looking for from students? What are the financial obligations? That might mean a series of tasks from obtaining transcripts to meeting with lending institutions and family to obtain funding.
Remember that each step has to have a specific date and tasks. The specificity is important. It is what separates a general vision from concrete goals. Meeting your goals will bring you your vision in the real world!
Now go step into your action so we may all celebrate your focused intention.
---
WHAT IS YOUR NEXT STEP?
Thank you for taking your time to read this article. We hope you found it informative and that it prompts you into action to begin your TRANSFORMATION to your GREATNESS. As a gift for visiting please choose one or more of our Complimentary or Special Offers.
---
Get a complimentary copy of Dr.Kim's book!
The Mission Manifesto; Passion, Purpose & Profit (Value $47)
Register HERE for your complimentary copy. Go!
---
Looking to attend a Live Event in North America?
2-Day Designing Your Destiny® Seminar at our lowest price of $97+HST (Save $253+HST)
Register HERE for Designing Your Destiny Seminar. Click Here
---

Can't attend a Live Event? Find out how to get to the next level NOW!
Book a complimentary Quantum Discovery Session with Dr. Kim (Value $387)
Register HERE for your Quantum Discovery Session. Go!
---
Questions? We'd love to hear from you so please contact us!
To reach us by phone, call: 905-727-4676 or email: info@creatrixgoquantum.com