by Dr. Kim Redman
as published in SNAPD Aurora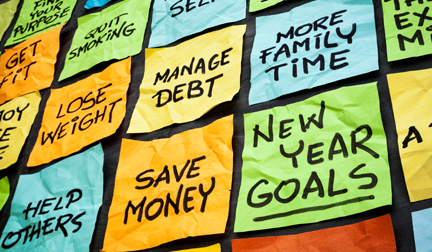 Every January I hear from so many people that…"Once again I've already blown my New Year Resolutions. How can I get on track?"
I know it is only October and maybe a crazy time to talk about New Year's Resolutions and I hope I catch your attention by talking about it now so you have the opportunity to break your cycle of frustration and prepare differently for your success in 2020.
If that statement reflects your experience the good news is you are in good company. Most people last less than two weeks in their resolutions, and then begin the year in self-blame. I will suggest a few proven techniques for you:
Instead of making grandiose resolutions, it is simpler and more effective to look at the area of your life that is most out of balance. What area of your life, if you got a handle on it, would have the most impact on your overall life and well-being? Health? Money? Relationships?
Now that you have the area that is most out of balance create a movie of how it will look and sound and feel when it is in balance. IMPORTANT NOTE: Keep it all positively focused. e.g. Instead of not-ill, you are completely healthy.
Next we work BACKWARDS to create some benchmarks. If a 5K run is your goal we might create benchmarks at 4K, 3K, 2K, 1K, walk/run/walking 1K, walking/run/walking 30 min/5 times a week, walk/run/walk 30 min/3 times a week, walking 30 minutes/3 times a week, walking 15 minutes/ 3 times a week.
Now that we have benchmarks we can start at the beginning with the smallest and easiest goal.
Success breeds success. Each step makes it easier to take the next step. Avoid worrying about perfection. Simply take some sort of action step every day. Everything yields to effort. Have a fabulous 2020 and feel free to play with this NOW on your self improvement plans. There is no rule that says you have to wait for any given January 1.
To your Health, Wealth and Happiness.
---
WHAT IS YOUR NEXT STEP?
Thank you for taking your time to read this article. We hope you found it informative and that it prompts you into action to begin your TRANSFORMATION to your GREATNESS. As a gift for visiting please choose one or more of our Complimentary or Special Offers.
---
Get a complimentary copy of Dr.Kim's book!
The Mission Manifesto; Passion, Purpose & Profit (Value $47)
Register HERE for your complimentary copy. Go!
---
Looking to attend a Live Event in North America?
2-Day Designing Your Destiny® Seminar at our lowest price of $97+HST (Save $253+HST)
Register HERE for Designing Your Destiny Seminar. Click Here
---

Can't attend a Live Event? Find out how to get to the next level NOW!
Book a complimentary Quantum Discovery Session with Dr. Kim (Value $387)
Register HERE for your Quantum Discovery Session. Go!
---
Questions? We'd love to hear from you so please contact us!
To reach us by phone, call: 905-727-4676 or email: info@creatrixgoquantum.com