by Dr. Kim Redman
as published in SNAPD Aurora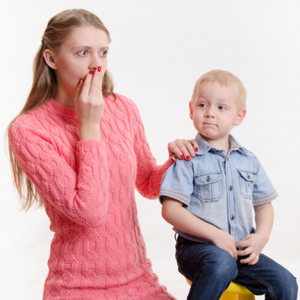 Many parents have told me in one fashion or another that they feel their parenting skills are missing the mark especially when it comes to correcting their child's behaviours or their behaviours in front of the child. One parent said to me "I made a New Years resolution to not curse as much now that I am a new parent, and in spite of myself it keeps happening. Any ideas?"
First of all, let's congratulate this parent on her new status as a parent, and on her good intentions to model the type of behaviour she wants for her child. Part of the problem may be that she is trying (note the word trying) to stop a behaviour, and that's not how the human brain works. The human brain can't act on a negative. It hears "Don't do that", as "Do that". So how you say things to yourself and others makes a big difference. It is much more effective to tell yourself what you want to have happen, rather than what you don't want.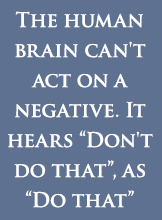 For a behaviour, this means that you can't break a habit. That's a 'not' type of command. You have to replace your habit with something else instead. So that might mean that when you feel the frustration building that you count backwards from 100 by 5, or that you hum a tune, or that you do three jumping-jacks. Really anything will work as long as it is consistent. In terms of time, it takes 3x to make a new neurological pathway, and 1000 times to have the habit installed. Usually people experience a big shift within a month.
Imagine how DOING such "TOWARD" strategies in your interaction with your spouse, your child or your family and friends would create more successful, happy interactions. Further imagine the impact if you trained your spouse and children in DOING such positive strategies.
Blows the mind doesn't it?
Happy Exploration!
---
WHAT IS YOUR NEXT STEP?
Thank you for taking your time to read this article. We hope you found it informative and that it prompts you into action to begin your TRANSFORMATION to your GREATNESS. As a gift for visiting please choose one or more of our Complimentary or Special Offers.
---
Get a complimentary copy of Dr.Kim's book!
The Mission Manifesto; Passion, Purpose & Profit (Value $47)
Register HERE for your complimentary copy. Go!
---
Looking to attend a Live Event in North America?
2-Day Designing Your Destiny® Seminar at our lowest price of $97+HST (Save $253+HST)
Register HERE for Designing Your Destiny Seminar. Click Here
---

Can't attend a Live Event? Find out how to get to the next level NOW!
Book a complimentary Quantum Discovery Session with Dr. Kim (Value $387)
Register HERE for your Quantum Discovery Session. Go!
---
Questions? We'd love to hear from you so please contact us!
To reach us by phone, call: 905-727-4676 or email: info@creatrixgoquantum.com