by Dr. Kim Redman
as published in SNAPD Aurora
In our last article I introduced Grog and Grogette and effective communication. Let's now examine the Grog perspective of "Why can't a woman just deal with things like a guy?"
"Why can't a woman be more like a man?", is dramatically sung by Rex Harrison in the movie My Fair Lady in a Hymn to Him.
Our reality is that our brains are wired differently, and it impacts everything we do, especially how we manage stress and big emotional states.
Women have 85% more connective tissue between the left and right hemispheres of their brain than men do. This means that women can't NOT feel. We can't turn it off. Men on the other hand can temporarily turn off intense emotions by thinking about something else. Counting backwards from ten does work, but just for the male brain.
To overly simplify this you could say that men either think big thoughts, or feel big feelings, but not at the same time.
How we process things is also different when it comes to diffusing big emotions. Grog goes into the 'cave' and does other things for a while (TV, computer, garage, etc.) that distance him from his feeling. He is pleased when the feeling is manageable, which allows Grog to think about it more logically.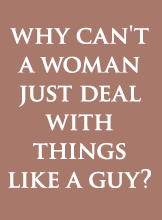 In Grogette's world, she knows that the only way to dissipate that big emotion is to talk it to 'death', until she has some linear understanding of why she feels what she feels. Ultimately Grog and Grogette are seeking the same thing.
When Grogette saw Grog go into the cave she knew he was upset. So a caring Grogette will use her own model of the world and immediately pounce on Grog as he comes out of the cave to ask him all sorts of questions about how he feels. Unfortunately this just puts Grog right back into the space he was trying to avoid being in!
The solution is twofold: Grog needs to tell Grogette that he needs more time before discussing it (a few hours or a day and YES if it was a big deal it there must be a follow up! Even a short one will do.) Grog also needs to mention that it's not about their relationship (unless it is!) and that will assist Grogette in feeling safe enough to create that space.
Grogette's job is to give Grog the space he needs. So educate your Grogette and enjoy the results.
Happy Communication!
---
WHAT IS YOUR NEXT STEP?
Thank you for taking your time to read this article. We hope you found it informative and that it prompts you into action to begin your TRANSFORMATION to your GREATNESS. As a gift for visiting please choose one or more of our Complimentary or Special Offers.
---
Get a complimentary copy of Dr.Kim's book!
The Mission Manifesto; Passion, Purpose & Profit (Value $47)
Register HERE for your complimentary copy. Go!
---
Looking to attend a Live Event in North America?
2-Day Designing Your Destiny® Seminar at our lowest price of $97+HST (Save $253+HST)
Register HERE for Designing Your Destiny Seminar. Click Here
---

Can't attend a Live Event? Find out how to get to the next level NOW!
Book a complimentary Quantum Discovery Session with Dr. Kim (Value $387)
Register HERE for your Quantum Discovery Session. Go!
---
Questions? We'd love to hear from you so please contact us!
To reach us by phone, call: 905-727-4676 or email: info@creatrixgoquantum.com