by Dr. Kim Redman
as published in SNAPD Aurora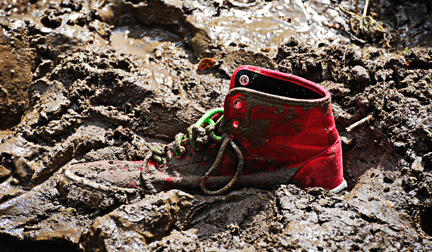 How many times should you try something before you give up?
Isn't that a great question.
We call this the "No Number" in Coaching. How many no's = no go, for you…or do you go until you get there? First of all let's address the wording in the question because it has the word "try". Try means fail. Go ahead and try to hold a pen…you can't do it. You either hold a pen, or you don't. As Yoda said, "Do or do not. There is no try". Instead, do your best in the moment. Really DO your best and commit to getting a result.
This concept of commitment to outcome is a key in NLP Coaching, and it reminds me of a big learning that I received working with Native Shaman, Kahu Fred Sterling, who is also the Minister of the Church of Light, in Hawaii. Kahu Fred is a guy's guy, and likes to 'give it to you' straight from the heart.
His saying is, "5 or 50". What that means is that you don't get judged on how many steps it took you to get to your goal, you get assessed by whether or not you engaged and took the journey.
Here are some guidelines to use:
Assess whether you really wanted the outcome in the first place, or whether you were doing what someone else wanted you to do. In order to have real success, you have to really WANT it.
Remember that deeds speak and talk is cheap, so actions and words should match.
You have to have a plan and be actioning that plan. No plan, is like trying to hit a moving target. No one hits a moving target very well at all.
You must spend time, money, and energy in a way that backs your new decision.
If you are stuck, DO IT DIFFERENTLY. Often it is the HOW that is the problem, not the WHAT of the outcome. We often want to be right and do it our way, rather than the effective way. This is a leadership component too.
We do an in-depth outcomes segment at our weekend events, including reverse-engineering, and give that as one of many templates around leadership. To learn more about how to get to your outcomes with greater intention check-out our "What Is Your Next Steps" offers below.
To Your Health, Wealth and Happiness!
---
WHAT IS YOUR NEXT STEP?
Thank you for taking your time to read this article. We hope you found it informative and that it prompts you into action to begin your TRANSFORMATION to your GREATNESS. As a gift for visiting please choose one or more of our Complimentary or Special Offers.
---
Get a complimentary copy of Dr.Kim's book!
The Mission Manifesto; Passion, Purpose & Profit (Value $47)
Register HERE for your complimentary copy. Go!
---
Looking to attend a Live Event in North America?
2-Day Designing Your Destiny® Seminar at our lowest price of $97+HST (Save $253+HST)
Register HERE for Designing Your Destiny Seminar. Click Here
---

Can't attend a Live Event? Find out how to get to the next level NOW!
Book a complimentary Quantum Discovery Session with Dr. Kim (Value $387)
Register HERE for your Quantum Discovery Session. Go!
---
Questions? We'd love to hear from you so please contact us!
To reach us by phone, call: 905-727-4676 or email: info@creatrixgoquantum.com