by Dr. Kim Redman
as published in SNAPD Aurora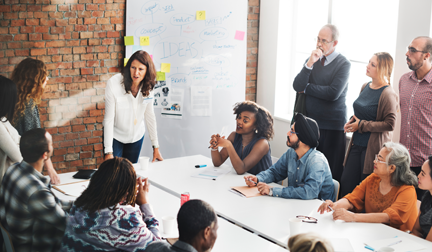 Question, has this thought confused you too?
"I keep hearing that as a leader that I can't make decisions based on how I feel, and that I'm supposed to honour my emotions? I am really confused. How can it be effective and be both?"
This is such a great question because it highlights one of the most misunderstood concepts of leadership and of conscious living and awareness.
Deepak Chopra recently published a series of blogs around Leadership. He defined the skills via seven heading around the letters. Let's look at the first part of the word L-E-A-D: L= Listening, E= Emotional Based Leading, A=Actioning Quickly and Easily, D=Deciding and Doing. In our last article we covered off "A' = Actioning Quickly and Easily.
I will jump to 'Emotion'. Leaders listen deeply to those around them with open body language, seek out expert advice, decide, and then action that decision. Often this information is filled with emotional statements from those around you and from ourselves. This data informs the decision –not the emotion itself. Emotions themselves are valid –but useless as informed criteria.
Let me give you an example.
If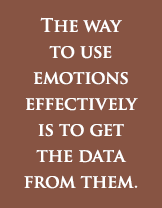 you find yourself angry at work a lot of the time, instead of going around talking about being angry, venting your anger and making the anger the focus of your world, you could get the information from the anger by asking a few questions:
What is out of balance in the situation?
Am I stating my needs and backing them with action?
Am I actioning my boundaries or just talking about actioning my boundaries?
Once you get the data about what in YOU is out of balance and what YOU need to do to shift that, then you can action that need in a compassionate way.
Start now with Actioning Quickly and Easily and searching for the data in the Emotions and gain the respect of your team for the growing leader you are becoming.
To your Health Wealth and Happiness.
---
WHAT IS YOUR NEXT STEP?
Thank you for taking your time to read this article. We hope you found it informative and that it prompts you into action to begin your TRANSFORMATION to your GREATNESS. As a gift for visiting please choose one or more of our Complimentary or Special Offers.
---
Get a complimentary copy of Dr.Kim's book!
The Mission Manifesto; Passion, Purpose & Profit (Value $47)
Register HERE for your complimentary copy. Go!
---
Looking to attend a Live Event in North America?
2-Day Designing Your Destiny® Seminar at our lowest price of $97+HST (Save $253+HST)
Register HERE for Designing Your Destiny Seminar. Click Here
---

Can't attend a Live Event? Find out how to get to the next level NOW!
Book a complimentary Quantum Discovery Session with Dr. Kim (Value $387)
Register HERE for your Quantum Discovery Session. Go!
---
Questions? We'd love to hear from you so please contact us!
To reach us by phone, call: 905-727-4676 or email: info@creatrixgoquantum.com