by Dr. Kim Redman
as published in SNAPD Aurora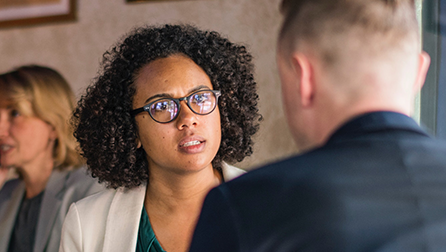 Ladies… tell me… how often do you find yourself telling your spouse a story and you suddenly notice he's 'zoned out' and looks like he has a glassy-eyed look? Then the conversation goes something like,
"You're not listening!"
"Yes I am."
Been there? Notice even how it becomes a real sore spot for you?
Allow me to help.
In Neuro Linguistic Programming one of the skill sets in Power Communication is the 'chunk size' or big picture vs. detailed picture aspect of our communication. Some people are wired to seek out only the big picture overview and some people are wired to give all the details of a situation. In addition, the male brain is said to be wired to use 2,000 words a day, and the female brain is said to use 6,000 words a day.
That's a 4,000 word discrepancy!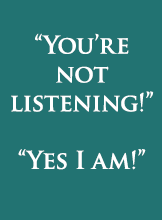 This is fine when you have two of the same communication type having a discussion. The challenge often happens when you have two opposite types having that same discussion. To the big picture person, caring means giving an overview of a situation and often focusing on the relationship between concepts, rather than the details of how they arrived at a decision. To the detailed person, caring means presenting the history of the situation, all the choices that were available, and all the reasons behind the choices that were made, often with exact quotes.
Often times relationships can survive this unless we are already stressed or tired. Under those circumstances the detail person will often interpret the big picture person as insensitive, or 'flighty' or unclear, and the big picture person will interpret the detailed person as boring, or insensitive. In truth it is none of those things. It is a simple mismatch.
The solution is often very simple. Keep your details to 3 – 5 details per item, instead of the whole story, and see if that gets you more of the response you are looking for. Since the human brain is wired to only juggle approximately 7 different items at once, let the glassy-eyed look be an indicator that you may have exceeded that number.
Happy Communication!
---
WHAT IS YOUR NEXT STEP?
Thank you for taking your time to read this article. We hope you found it informative and that it prompts you into action to begin your TRANSFORMATION to your GREATNESS. As a gift for visiting please choose one or more of our Complimentary or Special Offers.
---
Get a complimentary copy of Dr.Kim's book!
The Mission Manifesto; Passion, Purpose & Profit (Value $47)
Register HERE for your complimentary copy. Go!
---
Looking to attend a Live Event in North America?
2-Day Designing Your Destiny® Seminar at our lowest price of $97+HST (Save $253+HST)
Register HERE for Designing Your Destiny Seminar. Click Here
---

Can't attend a Live Event? Find out how to get to the next level NOW!
Book a complimentary Quantum Discovery Session with Dr. Kim (Value $387)
Register HERE for your Quantum Discovery Session. Go!
---
Questions? We'd love to hear from you so please contact us!
To reach us by phone, call: 905-727-4676 or email: info@creatrixgoquantum.com