by Dr. Kim Redman
as published by CHOICE Magazine Volume 15, Number 2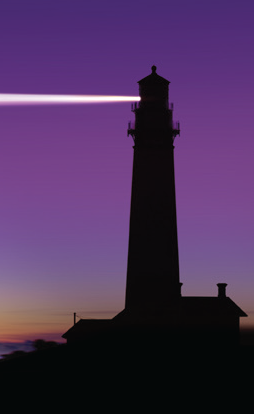 "I want to help everyone." "Everyone needs me." "I can help everyone equally."
Not true. Not fair to your client. And poverty inducing for you. This may sound harsh, but it It makes sense that no one is good at everything. A laser beam has more power because of its focus. The more narrow your focus is, the greater your impact can be. This also applies to coaching, in the form of niche coaching.
I love coaches. I love their spirit, their compassionate hearts, their desire to serve. It frustrates me that most coaches don't have the affluence to have the compassionate influence that they seek. So how do we get YOU the coach into more affluence? We need to integrate some business basics into our coaching paradigm. Traditionally coaches are great at wanting to assist people, and often don't realize that as coaches we all, need additional business skills.
Even if we have worked in businesses before, niche coaching introduces a new concept; you ARE the product. In niche coaching your journey, your experience, your wisdom are actually the products, and your services are the representation of those products. Since they can't take you home, they will take your service home instead. Specialization via niche coaching allows us to have a greater degree of influence. More affluence means that you have the ability to consistently create a bigger impact. Creating a bigger impact means that your clients get their results sooner, and you grow your expert person int he process.
How do we create a bigger impact? It's simple. Specialize. Get so focused on your ideal client that you could spot them in a crowded room.
Everything Means Nothing
Business Truth: confused minds can't sell and confused minds won't buy. The axiom when we work within the Expert Model™, is that niche coaching is actually more authentic, creates more awareness for the client, and is more serviceable both for the coach and for our clients. It's often simpler, and more fun too. You have taken an authentic journey to get from where you were, to where you are now. Your life counts. Your journey created some real life wisdom. Wisdom is authentic and permeates our energy field, allowing for deeper connections, and real insights.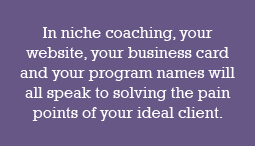 Most of us dismiss our own journeys as having little value. As a thought leader in the human potential movement, this confuses me. even universities give credit for life experience. When we train coaches within the Expert Model™ I have consistently found that a byproduct of exploring our the depth of our own journeys, and authentic truths, is a greater sense of self-love, confidence and a willingness to authentically share with others. The coach develops an appreciation for our own often hard-won wisdom.
Target Population
Niche coaching also allows us to easily find our target populations, or t-pop, because your ideal client will be an earlier version of YOU. They will reflect the you that you were, before you accumulated all of these tools and all of this wisdom. Your ideal client will be within a ten year age range, at a specific socio-economic status, usually be a specific gender, and have very similar "pain points", or glass ceilings, in their lives.
Understanding pain points is important because marketing for niche coaching vs traditional coaches is very different. In niche coaching your website, your business card, and your program names will all speak to solving the pain points of your ideal client. I'll give you an example from my target population:
Are you leading your community, personally or professionally, and tired all the time?
Is work-life balance a myth?
Are frustrated with empowering everyone else, but you?
Do you secretly want to quit, or wonder if it's all worth it?
Do you want to empower others or change the world, but it's overwhelming?
… Then come explore Goddess Coaching, and Unleash Your Inner Goddess™
Nailing the Pain Points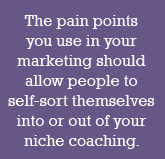 The above statements will speak to a very specific woman. The pain points you use in your marketing should allow people to self-sort themselves into or out of your niche coaching. I love to include a short webinar (under 10 minutes) or a free pdf "Five Things to Empower Your Inner Goddess", to further allow this self-selection to happen. Niche coaching is also more fun in my opinion, because you are not selling to clients, you are sorting ideal clients. Coaches hate selling and this allows or a different perspective when you are assessing new clients. There are only so many viable hours in a week, and part of making a bigger impact is working with the clients that truly resonate with you.
One of the biggest questions I am asked is how to go about nailing these pain points so that you can be precise in your marketing? Interview clients. I like to give my new coaches the task of going to a Tim Horton's with two fliers and asking random people which flyer they prefer. This gives you an amazing opportunity to dialogue with clients without any stigma of selling.
If they are target clients, invite them to an introductory evening, complimentary of course, and worth _____ dollars (Never use the word free because it translates to worthless in our linguistics!) where you can chat about the solutions to some of these pain points. The point of the evening is to generate curiosity, excitement, and inspire them to take action for themselves… with you and your coaching programs providing their solutions, of course. Niche coaching allows this to happen authentically.
Additional Training
Niche coaching also gives us a filter for which business skills we need to add to our tool belt. I am often asked if additional training is required for niche coaching and the answer is, that it truly depends on your specialization, and having said that, the answer is often, yes. If you have a specialty like PTSD, then yes, you would require specialized training, like a Mastery course in Neuro Linguistic Programming (NLP), that included Time Line Therapy® and Hypnosis. While it is possible to get around needing additional skills by affiliating with others in inter-dependence who have specialty skills, it is good advice to suggest that the coach obtains these skills themselves. This allows the coach more control over their business development, and over the creation of specialty coaching packages that are designed to meet the unique needs of their target population.
Niche coaching may require a little more imagination in the beginning, but it is a very lucrative approach to increasing your impact, exponentially. I always recommend that you speak to a niche coach who is already highly successful in your area of specialization and get some mentorship tips. After-all inter-dependence is always the fastest way to break the glass ceiling.
Niche coaching also lends itself to packages; short, mid-term, and long term work, as well as individual and group work. Niche coaching will allow the coach to explore the greatest range of options, with the biggest output options available in coaching today.
---
WHAT IS YOUR NEXT STEP?
Thank you for taking your time to read this article. We hope you found it informative and that it prompts you into action to begin your TRANSFORMATION to your GREATNESS. As a gift for visiting please choose one or more of our Complimentary or Special Offers.
---
Get a complimentary copy of Dr.Kim's book!
The Mission Manifesto; Passion, Purpose & Profit (Value $47)
Register HERE for your complimentary copy. Go!
---
Looking to attend a Live Event in North America?
2-Day Designing Your Destiny® Seminar at our lowest price of $97+HST (Save $253+HST)
Register HERE for Designing Your Destiny Seminar. Click Here
---

Can't attend a Live Event? Find out how to get to the next level NOW!
Book a complimentary Quantum Discovery Session with Dr. Kim (Value $387)
Register HERE for your Quantum Discovery Session. Go!
---
Questions? We'd love to hear from you so please contact us!
To reach us by phone, call: 905-727-4676 or email: info@creatrixgoquantum.com