by Dr. Kim Redman
as published in SNAPD Aurora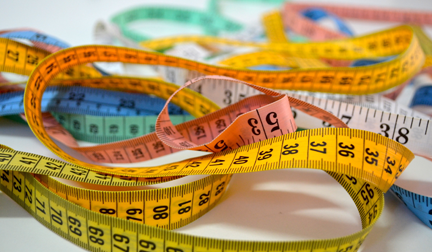 These past few weeks I have received a number of calls from clients and readers who either thought they were not on track, or who didn't know whether or not they were on track. All of them were using their feelings as a gauge. When the same theme presents itself I know it's time to bring it to the next level. So from me to you…
How Do You Know That You Know?
Most of us decide whether or not we are on track or whether we are having a good day based on how we feel. While our feelings are important they are pretty useless as a judge of whether or not we are on track. That's why they don't ask you if you felt it was a good workout at the gym. Instead they measure you. Same thing in business. We look at the bottom line.
Let me explain. An event happens – that is a real occurrence. We experience that event through our five senses, and as soon as we do, it is no longer real. It becomes our perception of the event. Since people are more sensitive in different areas, different people will perceive the same event differently. Then our internal filters go to work and take that 2,000,000 bits per second (bps) of information that is our experience and further sort it into 134 bps! Then that 134bps is further sorted into approximately seven pieces. From our seven pieces we construct an internal movie, and that movie combined with our neurotransmitters governs how we feel. Wow.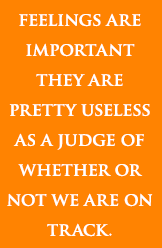 Result: Your feeling is 25 steps removed from reality (or more), and changes every time your internal movie changes. Are your feelings valid? Yes! Are they accurate enough to measure on? NO! It is said that we have approximately 90,000 thoughts a day and each one has a movie. How many of those movies are about our dreams and how many movies are about our 'stories'?
So how will you know?
Measure on behaviour instead. What will you be able to do, or not do, that is different from what you are doing now? Actions are concrete and measurable. This also allows us all to feel however we feel and still be on track!
Get concrete with your measurements and in an ironic twist you will feel much better about yourself. It is not what you get by accomplishing your goals that is important; it is about who you become. Knowing that you can accomplish something goes a very long way toward increasing self-esteem, creativity and abundance.
Thank you to everyone who wrote in and keep on creating your passionate lives!
---
WHAT IS YOUR NEXT STEP?
Thank you for taking your time to read this article. We hope you found it informative and that it prompts you into action to begin your TRANSFORMATION to your GREATNESS. As a gift for visiting please choose one or more of our Complimentary or Special Offers.
---
Get a complimentary copy of Dr.Kim's book!
The Mission Manifesto; Passion, Purpose & Profit (Value $47)
Register HERE for your complimentary copy. Go!
---
Looking to attend a Live Event in North America?
2-Day Designing Your Destiny® Seminar at our lowest price of $97+HST (Save $253+HST)
Register HERE for Designing Your Destiny Seminar. Click Here
---

Can't attend a Live Event? Find out how to get to the next level NOW!
Book a complimentary Quantum Discovery Session with Dr. Kim (Value $387)
Register HERE for your Quantum Discovery Session. Go!
---
Questions? We'd love to hear from you so please contact us!
To reach us by phone, call: 905-727-4676 or email: info@creatrixgoquantum.com