by Dr. Kim Redman
as published in SNAPD Aurora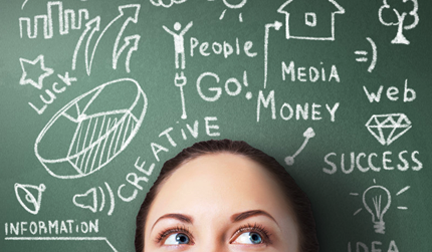 A business colleague recently commented to me that "I like to keep my options open. My friends and partner tell me I can't commit. What's the difference? Any thoughts?"
In today's world it seems all too easy to live a life of non-commitment. Statistics show that 51% of Canadian adults are 'single'. Commitment affects everything. It is defined as 'An agreement or pledge to do something in the future'. 

According to event organizers in the GTA, only about 50% of the attendees register in advance. Of those that do pre-register, most of them do so in the last two days before an event.
Here are the top 3 'reasons' given for non-commitment of ANYTHING:
'I wanted to keep my options open'
'I was hoping for something better to come along'
'I don't have the time, money, or energy'

Here are the top
3 'real' reasons:
Not knowing what you really want
Not knowing HOW to plan and get what you want
Having no measurable evidence procedure that you are on track (feelings don't count as a measurement)
How can you commit to what you want, if you only know what you DON'T want? Most people do not know what they really want. It's no wonder we can't commit. Commitment is a boundary. Be clear on what moves you closer to, or further from, from your goals.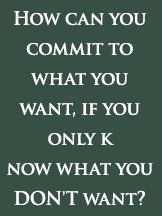 Here are 4 things you can do to better commit:
Know what you want in all areas of your life and that what want you want matches your inner values. A love of travel married to being chained at your desk, may be a sign that you're in the wrong job.
Have a vision on what your LIFE will be like with everything you want in ALL areas.
Create a plan on how you can achieve the life you want, both personally and professionally. Find someone to keep you accountable (a coach or mentor).
Always follow through with your commitments so that both others and you will believe in you.
Successful people easily commit. Imagine what your life will be like knowing that you have made the best decision and you are on track at any point in time to achieve your goals, with the flexibility to maneuver if necessary. Fabulous!
To Your Health, Wealth and Happiness!
---
WHAT IS YOUR NEXT STEP?
Thank you for taking your time to read this article. We hope you found it informative and that it prompts you into action to begin your TRANSFORMATION to your GREATNESS. As a gift for visiting please choose one or more of our Complimentary or Special Offers.
---
Get a complimentary copy of Dr.Kim's book!
The Mission Manifesto; Passion, Purpose & Profit (Value $47)
Register HERE for your complimentary copy. Go!
---
Looking to attend a Live Event in North America?
2-Day Designing Your Destiny® Seminar at our lowest price of $97+HST (Save $253+HST)
Register HERE for Designing Your Destiny Seminar. Click Here
---

Can't attend a Live Event? Find out how to get to the next level NOW!
Book a complimentary Quantum Discovery Session with Dr. Kim (Value $387)
Register HERE for your Quantum Discovery Session. Go!
---
Questions? We'd love to hear from you so please contact us!
To reach us by phone, call: 905-727-4676 or email: info@creatrixgoquantum.com